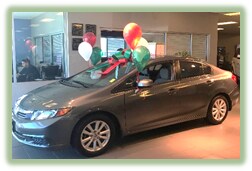 This holiday season TSG Auto will be donating a 2012 Honda Civic EX to a community nominated family in need. In addition to the car, TSG Auto will cover all registration fees, taxes and a years' worth of service! This is our fourth annual Project Merrier and we are so excited to make another family's holiday season a littler merrier. For this to happen we are asking for the community's help to nominate families in need! 
    How to nominate:
3)
Visit the showroom at 19201 E. Lincoln Ave Parker, CO 80138 to see the vehicle, meet the staff, and drop your letter in the nomination box 
Nominations are open until Monday, December 11th
The lucky family will be presented the vehicle on Friday, December 15th
We thank you in advance for your assistance to impact a family's life this holiday season!